The Horizon Hospice Care Team
Horizon Hospice offers a holistic approach to end-of-life care.
Our interdisciplinary team supports the primary caregiver in addressing the physical, psycho-social, and spiritual needs of our patients.
Patients and Families
In many cases, family members serve as primary caregivers, so you are the most important part of the team. You know best the wishes of your loved one, and can help guide our experts as we work together to ensure comfort.
Medical Director
Care Planning
The most common role the Doctor plays is assisting the entire team with care planning, including making changes to medications and discussing psycho-social issues.
Staff Education
The Medical Director also provides training and information to other team members at their weekly meetings to discuss patient care. Each patient's care is reviewed and specific approaches are identified to increase comfort and reach goals.
Consultation with Other Physicians
Our Doctor will coordinate medicines and maintain consistent approaches with your loved one's other Doctors.
Appropriateness for Hospice
Medicare has specific requirements to determine if your loved one qualifies for the hospice benefit. Our Doctor will review all appropriate information and work with the team to determine initial and ongoing eligibility.
Nurse Case Manager
The Horizon Case Manager is a Registered Nurse with specialized training in evaluation and caring for the terminally ill patient and assisting their families. Your Hospice Nurse is an expert in listening, observing, communicating, and providing compassionate care. The RN Case Manager works with the interdisciplinary team to develop a specific plan of care to meet patient goals. The RN case manager typically visits weekly, and can increase visits as needed for symptom management and medication teaching.
The RN case manager will be watching and observing for changes to adjust the plan of care accordingly. Your Hospice Nurse will be managing and monitoring:
Medications and supplements
Symptoms related to your disease
Skin and wound care
Durable Medical Equipment
Care provided by the nurse aide
Communication with your primary care provider
Social Workers
Social Workers at Horizon Hospice hold master's degree credentials (MSW), and provide a variety of services to patients and families as a key collaborative partner in the patient care team. Social Workers have expertise in many non-medical areas, providing education and support on the following topics:
Private Duty Care Agencies
Adult Family Homes, Assisted Living Facilities, and Skilled Nursing Facilities
Community support groups for caregivers
Financial Resources
Medicaid application/COPES program application
Food banks & local assistance agencies
Funeral Planning Resources
Written resources such as Life File and 5 Wishes
List of local funeral homes to assist families in planning
Tissue donation facilities resources such as MEDCURE and LIFE LEGACY
Veteran's Benefits
Booklet of benefits and connection to VA resources
Veteran honoring ceremony
Power of Attorney and Advance Directives Paperwork
Social workers can provide the documents needed for Advance Directives and Power of Attorney paperwork.
Some MSWs are also notaries who will notarize documents directly related to health care. We do not notarize unrelated documents, such as car titles or wills.
Psycho-Social Support
In home visits and monthly phone calls
Support, grief counseling and assistance with relational and emotional needs including information on the dying process, facilitating a life review, referral to our grief groups and volunteer support.
Hospice Nurse Aides
Our Hospice Nurse Aides are specially trained to assist patients with comfort and dignity. They visit patients each week in their home or facility to help with activities of daily living. Nurse Aide duties are assessed and directed by the RN Case Manager, these tasks may include:
Bathing
Grooming
Personal care
Light housekeeping
Meal prep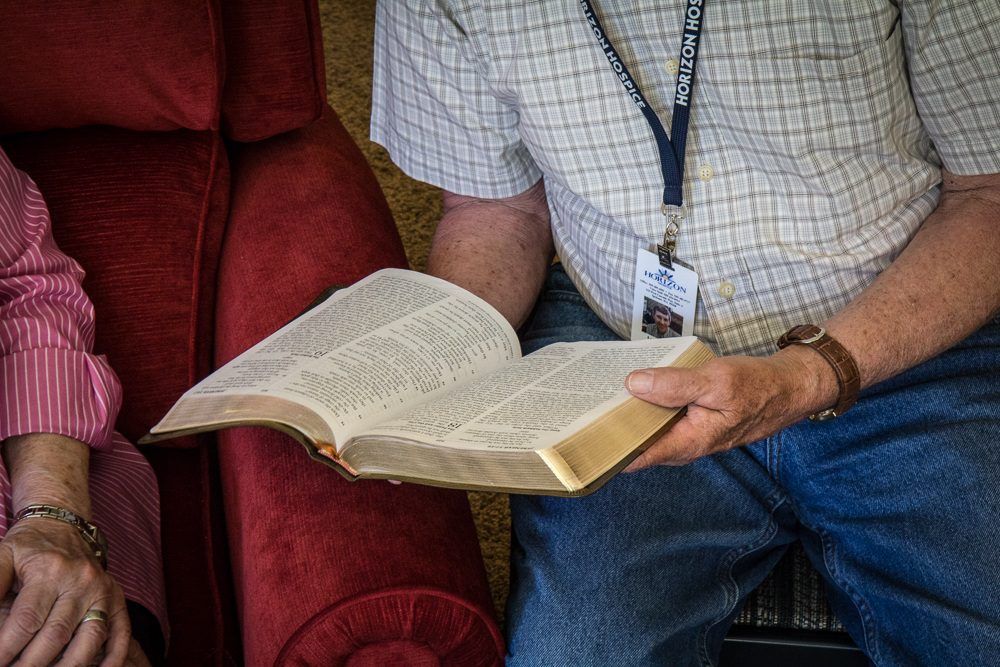 Chaplains
Chaplains are integral partners in patient care. We understand that during a serious illness, family members and patients often benefit from spiritual support. Our chaplains assist and provide spiritual care during your time of need in a way that honors your own beliefs, bringing peace and comfort.
At Horizon Hospice, chaplains take their cues from the patients, and develop individualized care plans that respect your beliefs, wishes, particular spirituality, and emotional concerns. Each patient is assigned a chaplain who develops a care plan tailored to their specific needs, and spiritual care is available at any time.
All Horizon Hospice chaplains are ordained ministers with experience and professional training to provide spiritual care. The scope of care can cover not only the patient, but also everyone involved, including caregivers, family members, and facility staff.
Chaplains are resources to the community, providing grief support to local facilities that have experienced losses of their own, delivering training to agencies regarding spiritual needs at the end of life, and facilitating grief care groups. Chaplains are available to officiate at patient funerals and graveside services at no cost to the family.
Bereavement Coordinator
In conjunction with Social Workers, our Bereavement Coordinator ensures that support continues beyond medical care, to help surviving loved ones work through the difficult process of grieving their loss.
Services include:
13 month of bereavement support to families of patients
Grief groups
Written literature
Annual memorial service
Individual bereavement counseling
Volunteer Services
Horizon Hospice volunteers are thoroughly screened, (including a background check) and have been trained to assist you in providing practical help and support during your time with hospice. All patients and family members may request a volunteer at any time. Simply talk with your nurse, social worker, chaplain or call the Horizon office.
What Volunteers Do
Offer companionship
Be a listening ear
Share a game or hobby
Write a dictated letter
Run errands
Read to a patient
Provide wheelchair tours
Help with light housekeeping
Record a video message
Arrange visits from a certified pet therapy animal
Sit with the patient so the caregiver can get out to run errands
Act as a Vigil Volunteer to sit with an actively dying patient when family is not available
Give a haircut
Massage hands
Paint fingernails
What Volunteers Do NOT Do:
Help a patient ambulate or transfer
Feed a patient
Transport a patient in a vehicle
Administer medications
Offer professional counseling
Reposition a patient
Change a patient
Cut or file nails
Answer medical questions
Provide ANY care-giving
You have the right to choose the best hospice care provider for your loved one
You have a choice! Don't just say
"hospice", say "Horizon Hospice".